Western Montana is gorgeous, and is undoubtedly a vacation all its own, but on the 150th anniversary of Canadian Parks we know you might want to scoot across the border for free park entry. The locals refer to Waterton Lakes National Park as "where the mountains meet the prairies" and Glacier National Park as "the backbone of the world." These majestic lands have inspired many writers and world travelers, and will certainly inspire you too. From Glacier's Going-to-the-Sun Road to Waterton's Red Rock Canyon, you'll be glad you decided on a two-nation vacation.
We want you to get the most enjoyment from your adventure as you possibly can, so we've gathered up some trip tips to ensure your vacation expectations are far exceeded.
Ports of Entry
There are four ports of entry near Glacier National Park. Two of them can only be reached by hiking into the backcountry or by taking a boat from Waterton Lakes. The easiest ways to visit Canada from northwest Montana are:
Port of Roosville U.S. Customs and Border Protection:
Visit Eureka on your way to British Columbia Kootenay National Park/Banff National Park.
Chief Mountain Border Crossing on AB 6 crossing over MT HWY 17:
Waterton Lakes and Glacier share a border, and there are two other ports of entry within the parks.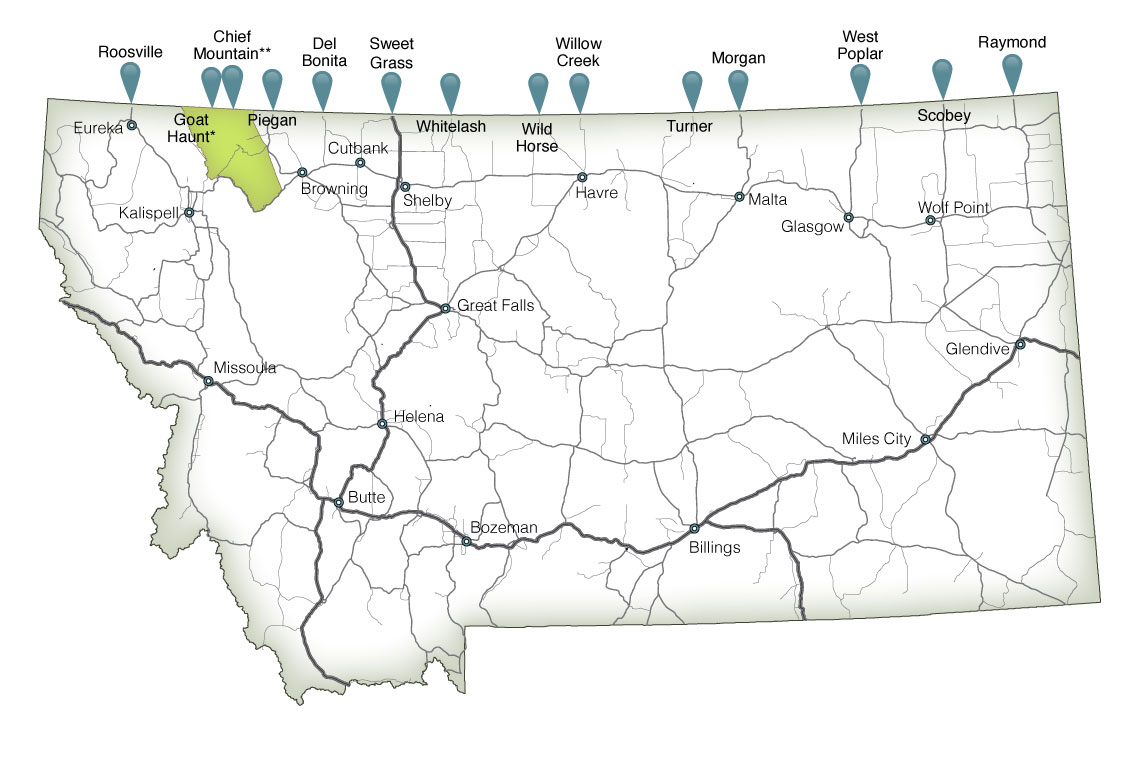 Waterton-Glacier International Peace Park
In 1932, the park was designated the first International Peace Park. It commemorates the bonds of peace and friendship between the two nations. The Peace Park is accessible from the U.S. by backcountry hike and from Canada by boat. Take a two-hour stunningly scenic cruise from Waterton across the border to Goat Haunt July through mid-September. The Prince of Wales Hotel is one of the most beautiful hotels in the Rocky Mountain West. Book early to secure a stay and soak it all in.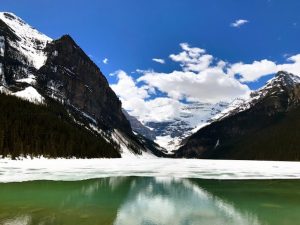 Lake Louise + Banff
If you're taking this trip, you're likely excited about seeing some glaciers. Just four hours north of Waterton Lakes National Park, you'll find Banff's Lake Louise. One of the most photographed locations in North America, this perfectly framed glacial lake is breathtaking. Enjoy the turquoise waters in the summer and skate across the smooth frozen surface during the winter. Lake Louise was named after Queen Victoria's fourth daughter. However, the lake was known as Ho-Run-Num-Nay, meaning "the Lake of Little Fishes" in the language of the Stoney Nakoda First Nations.
TIP: Passports
Don't let legal details ruin your trip. Be sure to check the status of your passport before heading up. For more tips and helpful information about legal border travel, visit our International Crossings page. Before leaving your home base, look up border hours of operation and seasonal closures.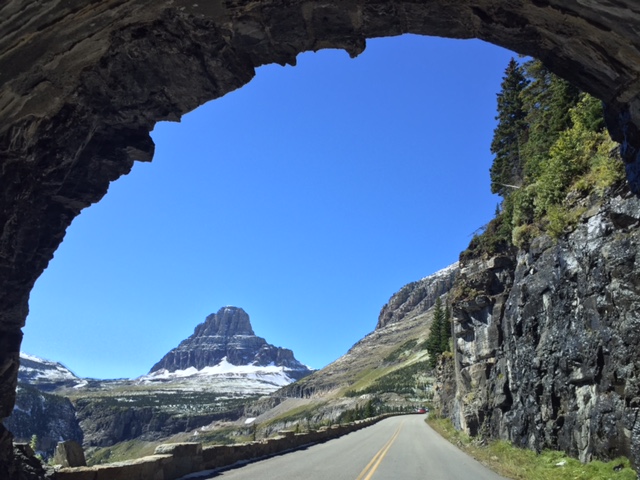 Glacier National Park + Going-to-the-Sun Road
Wind through glacier-carved peaks and valleys on the Going-to-the-Sun Road for an awe-inspiring experience. Find waterfalls and wildlife around every bend. Book a red bus tour or an adventure with Sun Tours for an American Indian perspective. Boat tours are also available on Lake McDonald and St. Mary Lake.
TIP: Glacier National Park Crowds
Glacier National Park encompasses more than 1 million acres and receives nearly 3 million visitors annually. If all 3 million visited at the exact same time, there would only be three people per acre. Luckily, we don't all visit at the same time, so crowds are manageable even during peak seasons. Visit during one of our shoulder seasons to find the park at its most peaceful, or explore one of the many other roads or hiking trails listed above.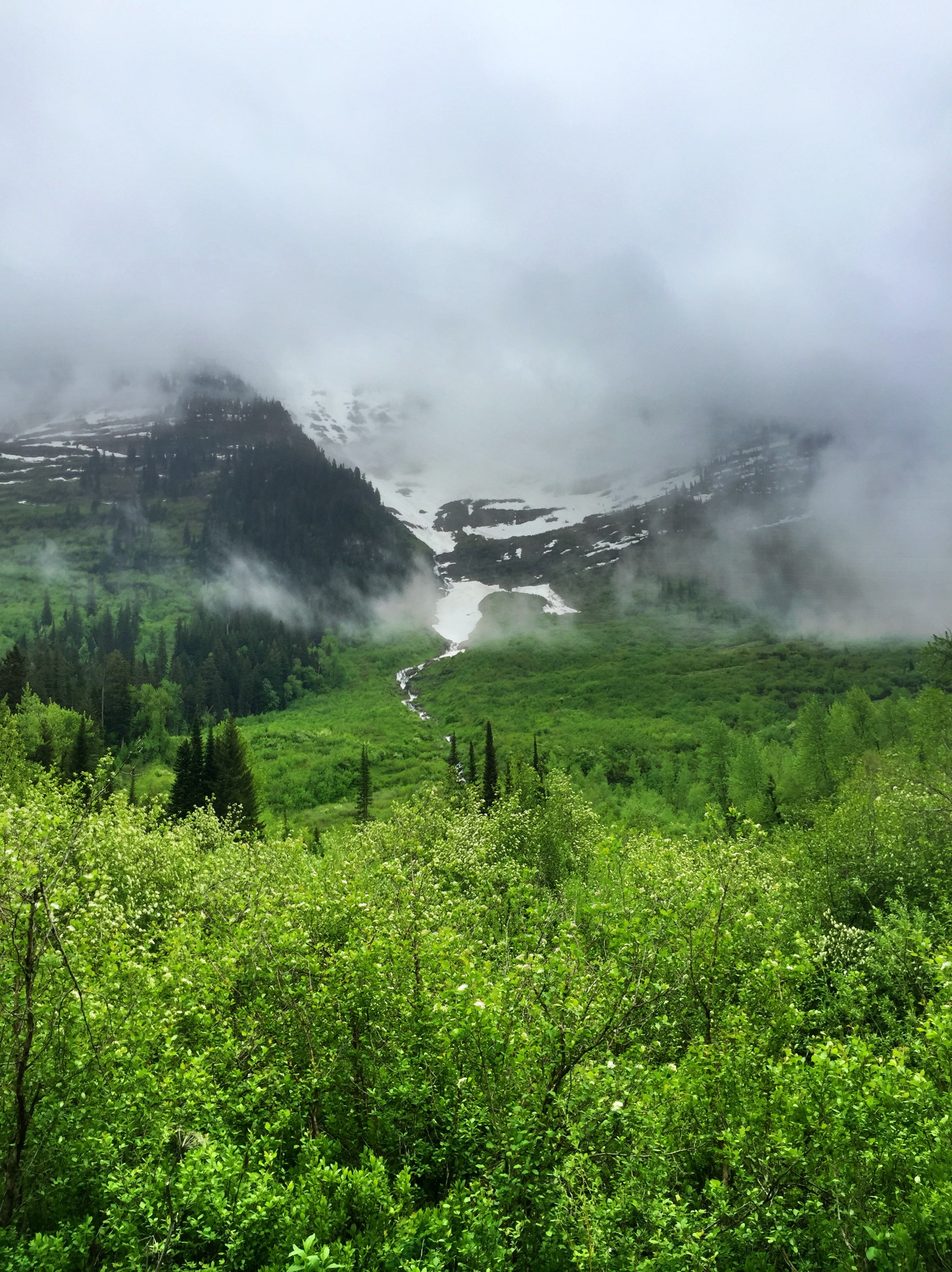 Glacier National Park + More Paths to Explore
Venture beyond the famed Going-to-the-Sun Road to find over 175 mountains, 762 lakes and 563 streams. If that sounds crazy to you, picture this: there are more than 200 named waterfalls and 25 named glaciers in the park. "NAMED," meaning there are more that may not even be on the map. Cruise up to Polebridge for a freshly baked treat on your way to Inside North Fork Road. This is the best way to get to Bowman Lake, a relatively remote camping spot with easily accessible hiking and kayaking. There are five other main roads available for your exploration. Check their status here.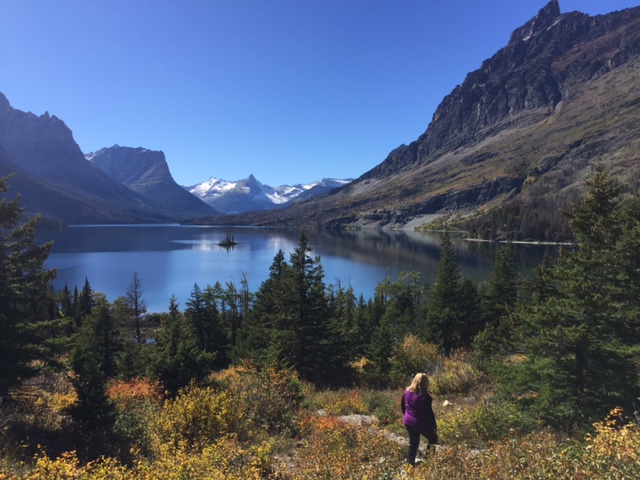 TIP: Weather Watch
The absolute best times to visit the parks are spring and fall. Though the weather can be fickle at the tail ends of these seasons, the vibrant colors and cooler temperatures make it well worth the wait. Spring arrives in early May and fall in early September. The tamarack and aspen trees draw autumn color chasers to this area every year. Don't miss out.
For a more detailed 7-day itinerary visit our Business to Business blog.
---
2017 Two-Nation Vacation Giveaway
Win a Park Pass for access to any U.S. or Canadian Park
To congratulate Canadian Parks on their 150th anniversary, we're giving away free park passes for both park systems. Enter here:
[gravityform id="5″ title="true" description="true"]
August 28, 2017
Related: Getting Around, Glacier National Park, Montana, Polebridge, Uncategorized, Vacation